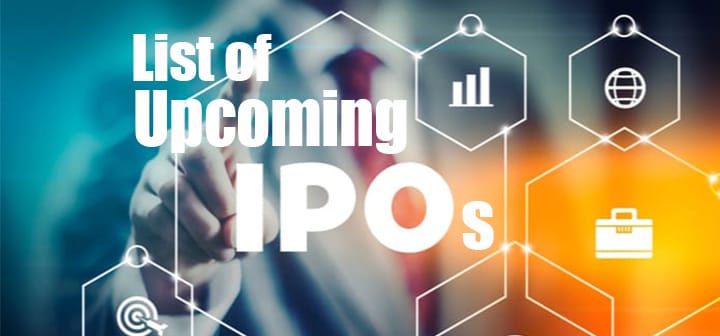 In the recent times, the popularity of IPOs has touched a new high India. As more and more companies deciding to raise capital by going public, releasing an Initial Public Offering (IPO) emerges as the most sought-after choice for them. From an investor's point of view, this is a great opportunity to be a part of a company's growth journey. In this article we have listed all upcoming IPOs in 2021 so that you can pre-plan your investment.
Have you seen this kind of craze earlier? Certainly, not. One of the major reasons behind this inclination is the easily availability of information and raise awareness about stock investment. In recent times, more number of people has switched to stock investing instead of putting their hard-earned money in conventional investment options like Fixed Deposits, Recurring Savings Account, Post Office Scheme, Life Insurance, and others.
So, if you have made up your mind about investing in an IPO, the first thing to do is to gain reliable information about what an IPO is and what are the latest upcoming IPOs in the stock market. Let's start.
What is an Initial Public Offering (IPO)?
An initial public offering, or IPO, usually denotes when a company sells its shares to the public for the first time. Before the release of an IPO, a company is largely considered a private company, but once the IPO is released, its shares are traded on a stock exchange. Popularly called "going public," the IPO can be defined as a company's effort to raise capital, but it may also disclose that a company's assessment is wrong and cause its stock price to dip.
Best upcoming IPOs in 2021
Now, you have some basic information about what an IPO is. Let's check out the top upcoming IPO in India and their details.
Given their unicorn-standard valuations and headline-catching names, these businesses may be the most discussed new initial public offerings (IPOs) over the next few months. They are found to give an extended range of services, and many of them are exclusively placed to thrive in the post-Covid economy.
1. FSN E-Commerce (Nykaa)
FSN e-commerce Ventures Pvt. Ltd. is a leading digital consumer technology platform which offers a wide variety of lifestyle stuffs. Established in 2012, the company is categorized as an Omni channel retailer of fashion, personal care, beauty, and wellness and fashion stuff. There are majorly two 2 business verticals of Nykaa – Nykaa and Nykaa Fashion.
Other Details:
Opening Date – Oct 28, 2021
Closing Date – Nov 1, 2021
Price Band – ₹1085 to ₹1125 per equity share
Issue Size – ₹ 5,351.92 Cr
Face Value – ₹ 1 per equity share
Market Lot – 12 Shares
2. Fino Payments Bank
Set up in 2017, Fino Payments is a leading fintech firm offering a wide range of of digital financial products and services across the country. The company boasts a pan-India distribution network. Its major products and services are:
Current accounts and Savings accounts (CASA)
Debit card and related transactions
Enabling domestic remittances
Open banking functionality
Cash deposit & withdrawl
Cash Management Services (CMS)
Other details:
Opening Date – Oct 29, 2021
Closing Date – Nov 2, 2021
Price Band – ₹ 560 to ₹ 577 per equity share
Issue Size – ₹ 1,200.29 Cr
Face Value – ₹ 10 per equity share
Market Lot – 25 Shares
3. Policy Bazaar
Policybazaar, formally known as PB Fintech Ltd., is an Indian insurance service provider and multinational fintech company based out of Gurgaon. The company was set up in June 2008 by Yashish Dahiya, Alok Bansal and AvaneeshNirjar. It features a digital platform – both a full-fledged website and a mobile app to help users compare financial products of leading insurance companies.
Opening Date – Nov 1, 2021
Closing Date – Nov 3, 2021
Price Band – ₹ 940 to ₹ 980 per equity share
Issue Size – ₹ 6,017.50 Cr
Face Value – ₹ 2 per equity share
Market Lot – 15 Shares
4. Paytm
Launched in 2010, Paytm is a subsidiary of One97 Communications and operates from Noida in NCR region. In its initial stage, this company was set up as an online mobile recharge platform. It encountered several changes over the years and revived its business model tremendously.
At present, it serves as India's leading online mobile payments and commerce platform, which enables people to do cashless transactions via its revolutionary Paytm App. Registered merchants can also make the use of this platform to offer their products and online payment services. In addition, they can use it for advertising goals too.
Upcoming IPOs in 2021
Besides offering UPI payments and online bill payments, Paytm allows people to invest in stocks, digital gold, mutual funds and insurance. According to top 10 stock brokers in India, it is one of the much awaited IPO in the BSE and NSE.
Opening Date – Nov 8, 2021
Closing Date – Nov 10, 2021
Price Band – ₹ 2080 – ₹ 2150 per equity share
Issue Size – ₹ 18,300 Cr
Face Value – ₹ 1 per equity share
Market Lot – 6 shares
5. Adani Wilmar
Set up in 1999 as an association between Adani Group and the Wilmar Group, Adani Wilmar is India's leading FMCG food company which offers a large number of kitchen merchandises for Indian consumers, including edible oil, rice, wheat flour, sugar, and pulses. The company also offers a wide variety of industry fundamentals, including castor oil, oleochemicals, and its offshoots, and other items. The company's products are provided under a varied range of brands across an extensive price spectrum and cater to diverse buyer groups.
Opening Date – Oct, 2021
Issue Size – ₹ 4,500 Cr
Face Value – ₹ 1 per equity share
6. Mobikwik
Established in 2009, Mobikwik is a tech-driven Fintech business and is considered among the leading mobile wallets and Buy Now Pay Later (BNPL) players in India. The company is concentrating on the fast-emerging Indian online payments market offering regular mobile payments and benefits of Buy Now Pay Later (BNPL) services. As of March 31, 2021, Mobikwik has more than 101.37 million registered subscribers and over 3.44 million e-commerce, physical retail, and biller partners.
Opening Date – upcoming
Closing Date – upcoming
Issue Size – ₹ 1,900 Cr
Face Value – ₹ 2 per equity share
Conclusion
With the rising popularity of IPOs in India, they emerge as a wonderful stock investment option among investors.
Upcoming IPOs in 2021
Visit for more articles