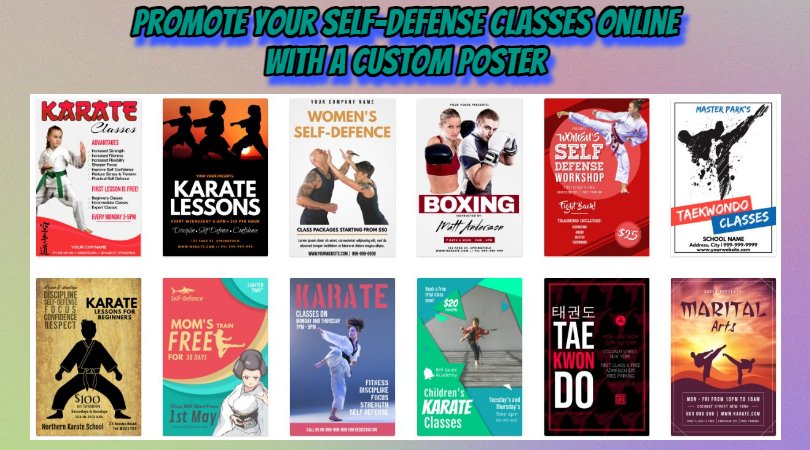 In your efforts to train others in self-defense, you may be wondering how to get the word out there about your classes. After all, self-defense is an important skill that everyone should know!
There are a few ways you can go about promoting your self-defense classes online. And in this article, we're going to discuss a few of those methods so that you can get started reaching more people.
Few ways about promoting your self-defense classes online:
Create a Website.
If you want to reach potential clients online, one of the best things you can do is create a website for your self-defense classes. Your website can include all of the pertinent information about your classes, such as when and where they're held, how much they cost, what age groups they're meant for, etc.
In addition to this basic information, your website should also include some photos and videos of you in action. This will give potential students a better sense of what your classes are like and help them to see you as a credible instructor.
If you don't have the resources or time to build a website from the ground up, there are tons of platforms available that make website creation straightforward and easy to understand. 
But that's only half the battle.
You also need visuals to draw your customers in. Adding self-defense posters to your website will add some color and excitement, which can help to get potential students interested in your classes.
Best of all, you don't need a black belt in graphics design to create stunning posters for your online classes. Thanks to the versatile, easy-to-use poster templates, you can create powerful visuals in minutes!
What's more, you're free to customize your poster in any way you like to ensure that it's exactly the message you want to convey. And with over 200,000 templates, you have plenty of options. You also choose the fonts to use, colors to apply, images to include, and more.
And thanks to PosterMyWall's user-friendly tools, even those with little to no understanding of ads and marketing will feel right at home in no time.
Use Social Media.
Another useful way to promote your self-defense classes online is through social media. You can use platforms like Facebook, Twitter, and Instagram to reach a wider audience and share information about your classes.
Facebook and Twitter are good for sharing links to your website or blog posts about self-defense. You can also share photos and videos of your classes in action, as well as announcements about upcoming events.
Instagram is a great platform for sharing behind-the-scenes photos and videos, as well as finished products from your classes. Short Instagram stories are also a great way to give potential students a glimpse into what your classes are like on a day-to-day basis.
While these platforms are fantastic for connecting with consumers, they can be time-consuming to use. If you're like most business owners, you probably don't have the time to create flashy, eye-catching posts on sites like Instagram.
The good news is that you don't have to! Thanks to Instagram post templates, you can create beautiful, engaging posts without spending hours on design. This allows you to focus on other aspects of your business, like teaching your classes!
PosterMyWall's highly-accessible user interface means you'll have ready-to-go Instagram posts in mere minutes. You can even include video clips to maximize your message. It's never been so easy!
Use Paid Advertising.
If you want to reach an even wider audience with your self-defense promotion, you can also use paid advertising. This involves using platforms like Google AdWords or Facebook Ads to place ads on websites and social media platforms.
When done correctly, paid advertising can be a good way to reach a large number of people with your self-defense message. But it's important to keep in mind that this method can be expensive, so you'll need to make sure you're targeting the right audience.
You can use paid advertising to target potential students who live in your area or who are interested in self-defense. This ensures that your ads are reaching people who are more likely to be interested in your classes.
Start a Blog.
If you're looking for a way to reach potential students that doesn't involve paid advertising, then starting a blog is a great option. A self-defense blog is ideal for sharing your knowledge and expertise with the world.
You can use your blog to write helpful articles about self-defense techniques, share tips for staying safe, and write reviews of self-defense products. You can also use your blog to share photos and videos of your classes in action.
Not only will starting a blog allow you to reach potential students, but it can quickly build your credibility as an instructor. A well-written blog will show potential students that you know what you're talking about and that you're passionate about self-defense.
If you don't have the time or writing acumen to start a blog from scratch, consider using a ghostwriting service. With this type of service, you can hire a professional writer to create high-quality content for your blog. 
Simply provide the topic you want the ghostwriter to cover, and they'll take care of the rest! This is a great way to get high-quality content for your blog without having to spend hours writing it yourself.
Promote Virtual Classes.
With many people still working from home and avoiding large groups, virtual classes have become increasingly popular. As a self-defense instructor, you can promote your classes online and reach a larger audience.
There are a number of different platforms you can use to host your virtual classes, such as Zoom, Google Hangouts, or Skype. You can promote your classes on your website or social media platforms, and students can sign up and participate from the comfort of their own homes.
Conclusion:
There are a number of different ways to promote your self-defense classes online. And the best way to reach potential students is to use a combination of methods. So don't be afraid to use traditional marketing techniques and modern methods.
By using a mix of organic and paid promotion, you can reach the widest audience possible and get more people interested in your classes.
Visit for More Best Articles